Hough Heads Tough Four Way Tie in Spring Open
More news articles
5/28/2013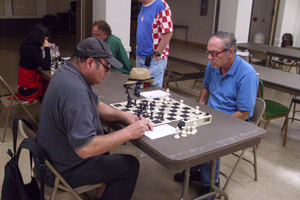 The Spring Open tournament ran from April 15 to May 20 and produced a four way tie for first. Congratulations to Fei Yue Yang (2194), Melandro Singson (2151), Randy Hough (2019) and Phil Chase (1987) all scored 5/6 to share the combined first and second prizes.
The final round saw Yang take on Singson on top board. A quick draw ensued, a result which suited both players as they knew it would at least guarantee them a share of first place.
Hough defeated Henry Castro (2092) on board 2 and, in the process, gained an impresive 46 rating points. Chase then beat Oscar Ortiz (1942) on third board and also regained his expert rating at the same time.
Three players finished on 4.5/6: Castro, Gregg Fritchle (2027) and Gordon Brooks (1949). A further seven players then finished on 4/6.
There were big rating gains for Queena Deng (1739 to 1792), Shutian Wang (1084 to 1151), Edward Wu (1600 to 1669) and Daniel Zhou (1405 to 1474). Those gains were impressive but were elipsed by the massive gains made by Johan Akesson (1566 to 1741) and Abinanda Mukundan (1225 to 1343). Congratulations to all our big rating gainers.
A new tournament, the McGuire Challenge, starts Monday, June 3. Please be there by 6:45pm so that the first round can start on time.