Winter Open Round 5 - Yang Unleashes "The Brooks Bind"
More news articles
2/12/2013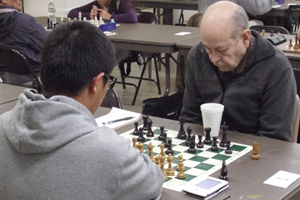 The only two players on perfect 4/4 scores clashed in round 5 of the Winter Open, with FeiYue Yang (2138) emerging victorious over Gordon Brooks (1934). The top board battle had many interested spectators, with Brooks - who had black - getting into a horrible bind with his king, queen and rooks bunched together awkwardly on the kingside. It was only a matter of time before black's position cracked and eventually it did, with white piling on the pressure with his heavy pieces. Yang's win means he is the only player now on a perfect score, and indeed he only needs a draw in his final round game to guarantee outright first place.
Eren Karadayi (1843), fresh from his win over expert Randy Hough (2025) in round 4, continued his excellent tournament by drawing against Gregg Fritchle (2058). It looked as though Fritchle, who had white, had some good chances in the middlegame, particularly as black's knights were awkwardly placed. However, black was able to re-coordinate and force the game into a dead drawn ending.
On board 3, Jeff Schroeder's (1806) fine run came to an end as he lost to Matthew Hayes (2032). Schroeder, who had white, played a Maroczy Bind against black's Sicilian Dragon setup but missed a tactical trick that won a pawn for black. White resigned when faced with the loss of a second pawn a short while later.
He hasn't had much of a mention in these tournament reports so far but Tom Zapanta (unr.) had been having fine tournament. His good form continued as he beat Stephanie Shao (1880) on board 4. Zapanta is clearly around expert level, so his lack of a rating should not be an indication of his true strength (it simply means he hasn't had any rated USCF games!). It's likely Zapanta's provisional rating, which will be issued after the Winter Open concludes, will be at least 2000 if he wins his last round game.
As usual, there were a raft of shock results this round, starting with Joey Perez (1736) who defeated Dave Matson (2006) for one of his best ever wins in Arcadia. Cory Chen (1570) also had another fine win, beating Dave King (1776) on board 8, as did David May (1304) who downed Bill Kiplinger (1799). Finally, David Munoz (1601) had an excellent draw with the black pieces against Eduardo Linsangan (1808) on board 7.
Round 6 of the Winter Open will take place Monday, February 25. Please note that the chess club is CLOSED February 18 for Presidents Day.