Winter Open Round 3 - When the Going Gets Hough
More news articles
1/23/2013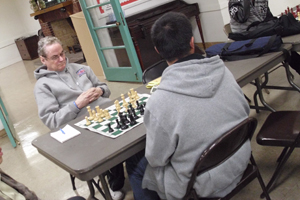 The Winter Open continued last night, with FeiYue Yang (2138) stamping his authority on the tournament and moving to a perfect score of 3/3.
Yang was paired against Randy Hough (2025) on top board and, despite having the black pieces, wasted no time in vanquishing his foe.
On board 2, Gregg Fritchle (2058) defeated Wendell Salveron (1948) with white, maintaining his excellent start to the tournament.
On board 3, Gordon Brooks (1934) beat Matthew Hayes (2032) after a see-saw battle where Hayes unwisely traded down in a good position in time trouble, only to blunder a rook right as the players reached the time control.
Michael Cooper (2101) squared off against Anthony Ge (1684) on board 4, with Ge putting up resistance but Cooper eventually prevailing. The result keeps Cooper in touch with the leaders on 2.5/3.
The evening's upsets came thick and fast, starting with David Munoz (1601) who beat Tim Thompson (1910) on board 7. Ryan Chen (1595) continued his recent good form by drawing with John Anderson (1879), as did Cory Chen (1570) who drew against Ray Sollars (1766). Tim Deng (1607) had an excellent win with the black pieces over Ryan Yeung (1813). There were also draws for Marcus Benton (1500) against Joey Perez (1736) and Jeff Schwartz (1488) against Melvin Bond (1714).
Round 4 of the Winter Open will take place Monday, February 4.