Bill Smith Open Round 3 - Carlson in Cruise Control
More news articles
7/24/2012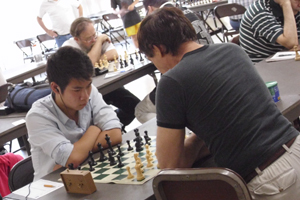 Round 3 of the Bill Smith Open took place last night, with four players emerging on perfect 3/3 scores. An update to the ratings of some players meant the board numbers were shuffled around, with Mike Carlson (2062) moving to board 2 and Matthew Hayes (2064) switching to board 1, although these ratings will change in the next rating supplement (Carlson will be higher, Hayes lower). The tournament was also further boosted by the late entry of expert Michael Cooper (2050).
On top board, Hayes took on Gordon Brooks (1900) with the black pieces. The opening lead to the Rubinstein Variation of the English, which is fairly uncommon. Something must have been in the air that night because, in a strange coincidence, Tony Grauso (1665) also played the same line in his game against Ryan Chen (1433)! In the Brooks - Hayes game, Brooks gave up the bishop pair but seriously compromised black's pawns by way of compensation. As they neared the time control, both players made some inaccuracies with white being up a pawn, then black, and then white again. A draw was agreed when most of the pieces had been traded and it became clear that white wouldn't retain his extra pawn.
Mike Carlson grappled with Steven Qian 1875) on board 2, in a Closed Sicilian where Carlson had the white pieces. Qian played what was probably an unsound piece sacrifice, gaining some pressure and a couple of pawns but it just wasn't enough. Once white had contained the situation, there was only ever going to be one outcome and the player with the extra piece prevailed.
On board 3, David Argall (2000) had a fascinating game against Ron Morris (1831). Both of them play the French Defense, so it was no surprise when Argall opened with 1. e4 and Morris did indeed reply with 1. ... e6. Black was in the game until the players neared the time control, where Morris went into a combination without enough time to analyze everything. He overlooked something, which turned a probable draw into a fight to save the game after Argall emerged from the tactical melee with a rook for two pawns. Despite trying to get a perpetual, black eventually ran out of checks and had to concede the game.
Dave Matson (1987) kept up his fine start to the tournament by beating Stephanie Shao (1779) with the white pieces. The result keeps Matson in contention amongst the leaders with a probable game against Mike Carlson to come next week in round 4.
There were several upset results this week, starting with the quickly improving Justin Chang (1558) who drew with John Anderson (1944). Anthony Ge (1432) had a superb win over Melvin Bond (1701) and with the black pieces to boot. The aforementioned Ryan Chen took on Tony Grauso's Rubinstein Variation of the English and achieved an excellent win in what is turning out to be one of his best tournaments in Arcadia. Mark Self (1329) overcame a 400 point rating difference to dispatch Michael Bond (1653) and, finally, David May (1290) beat out Xavier Armagnac (1477) to round out the evening's shocks.
The Bill Smith Open will continue Monday, July 30.