Faber, Victoria & Castro Win Club Championship
More news articles
4/6/2012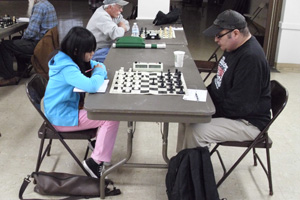 The Arcadia Club Championship concluded Monday, April 2 with a three way tie for first place. Craig Faber (2204), Jesse Victoria (2072) and Henry Castro (2024) shared the spoils and will split the $300 first prize. Congratulations to all three players.
Faber had gone into the last round knowing that a win would guarantee him outright first place. However, he had to settle for a draw against Gregg Fritchle (2021). Fritchle, who had the white pieces, was up a piece but Faber had several pawns by way of compensation. Fritchle was able to drive black's king out into the open and earn a draw by perpetual check. The result also gave Fritchle sole second place in the tournament.
On board 2, Jesse Victoria (2072) squared off against Wendell Salveron (1937) with the black pieces. Salveron blundered a piece but still tried to drum up some counterplay. However, a blitz finish at the end left him in a hopelessly lost position down two pieces and numerous pawns. He resigned shortly after. The tournament was still a successful one for both players, with Salveron gaining 20 rating points and Victoria of course finishing in joint first place.
On board 3, Henry Castro (2024) beat a resurgent Randy Hough (2029) to reach his all time rating high of 2055. Hough recently had a good tournament in Pasadena and looked to be in good form but Castro proved to be too good on the night.
Board 4 saw John Anderson (1888) vs Matthew Hayes (2072). Having drawn their last game, Hayes was looking for some revenge but had to settle for another draw. Despite building up a promising position in the opening and middlegame, an inaccuracy let Anderson back into it. Hayes, playing black, was somewhat fortunate to escape with a draw given white's excellent position in the endgame. The result wasn't helpful to either player in terms of the tournament standings but it did move Anderson to a new rating high of 1892.
There were also wins for Oscar Ortiz (2023) over Queena Deng (1698) and for Gordon Brooks (1900) vs Ryan Yang (1085), who was a last minute stand in for Steven Niles who took a bye. Experts Dave Matson (2008) and David Argall (2000) had to settle for a draw, as did Dane Hinrichsen (2000) and Tim Thompson (1919).
A new tournament, the Spring Open, starts Monday, April 9.