Istvanyi Open Round 2 - The Name's Bond, Melvin Bond
More news articles
10/11/2011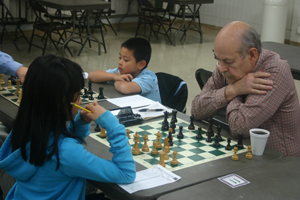 The Istvanyi Open resumed yesterday and saw a couple of big shock results. Melvin Bond (1713) left David Argall (2005) shaken and stirred and secured his biggest win at Arcadia Chess Club. Bond had an extra pawn going into the endgame and was able to win a piece to force Argall's resignation. The evening's other major upset was Tim Deng's (1550) win over Tim Thompson (1980). Thompson looked to have a dangerous attack brewing after Deng castled queenside but walked into a nasty knight check that suddenly left his king with nowhere to run. Prior to the game Thompson had jokingly predicted that "Tim will win this game"; he was certainly right about that!
There were no shocks on the remainder of the top boards, with the exception of Eren Karadayi's (1888) draw vs Alexander Xie (2027) on board 2. However, their rating difference is only about 140 points so a draw was only a minor upset. Board 1 saw Jesse Victoria (2089) win the exchange against Stephanie Shao (1741), an advantage he eventually converted into an endgame win. Board 3 was a wild Vienna Gambit between Matthew Hayes (2018) and Michael Bond (1698) that saw Hayes emerge victorious. On fourth board, Ron Morris (1809) had a great position against Michael Cooper (2009) but lost his way towards the endgame allowing Cooper to take home the full point. Randy Hough (2006) quickly dispatched Tony Grauso (1664) on board 5 in one of the evening's quicker games. Dane Hinrichsen (2000) had a long game against David Rash (1573) and, although Rash put up stiff resistance, Hinrichsen eventually prevailed.
Scott Hewett (2078) returned to play only his second game ever at Arcadia Chess Club. As he turned up on the night and wasn't paired in advance, Hewett's opponent was youngster Allen Qiu (705). Although a mismatch on paper, Qiu played very well and was only down a pawn in the middlegame before Hewett's rating and greater experience eventually told.
The Istvanyi Open will continue Monday, October 17.