Shocks Continue in Electric Club Championship
More news articles
3/14/2014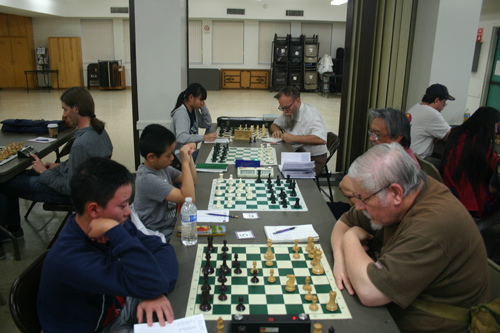 Round 2 of the Mel Clark Club Championship took place Monday, March 10 and seven players emerged on perfect 2/2 scores.
On board 1, Melandro Singson (2109) was white against Tim Thompson (1905). An asymmetrical English Opening arose (1. c4 e5), which ordinarily would be a slower opening, but Singson was able to exchange his c pawn and suddenly the c file was blown wide open. White invaded with both of his rooks and left black totally tied up, which quickly forced resignation.
Craig Faber (2150) was black on board 2 against Simon Slutsky (1879). Faber played the Dutch, one of his pet openings, and won a pawn out of the opening. However, his king was a little airy, particularly on the dark squares, and Slutsky was able to hold out for a well earned draw. This is the second game in a row that Slutsky has split the point with Faber.
David Bassett (2141) took on Gordon Brooks (1900) on third board. Brooks, who had black, played the Scandinavian but white always looked a little better. Going into the endgame, white was able to win a pawn and then exerted extreme pressure against black's backward h pawn. This proved enough to win and black had to resign.
On board 4, Rolf Kuiper (2039) was only able to draw against Danny Machuca (1831). Kuiper is back in the U.S. for a little under two months, after which he will be returning to Germany, at least until the next time he feels the urge to play a little chess in Arcadia! His game against Machuca was a Grunfeld and white even won a pawn but this was offset by black having a dangerous looking bishop pair. A draw was a fair result in the end.
In addition to the minor upsets on boards 2 and 4, there were two huge shock results on the lower boards. Queena Deng (1753) defeated David Argall with the black pieces on board 8, a result that was quickly followed by Alex Dang's (1283) wonderful draw against Dane Hinrichsen (2000) on board 19.
Matthew Hayes (2105), Kelly Zhang (2038) and John Anderson (1850) all recovered from their poor results last week to post their first wins of the tournament.
The Club Championship continues Monday, March 17.