Finishing With a Flores
More news articles
3/5/2014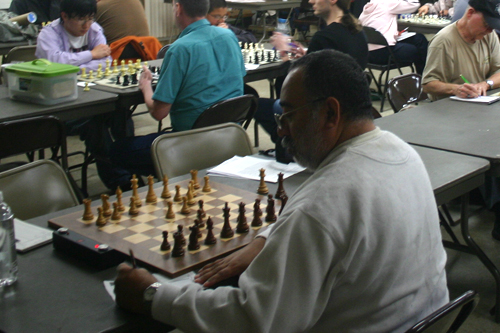 The Mel Clark Club Championship started Monday, March 3 with an excellent turnout of 62 players, plus a few more who took byes in round 1. There were several big upsets in the first round, with three of the top rated players suffering shock results.
Melandro Singson (2209), fresh off obtaining a Master rating at the end of 2013, returned and faced off against Bertram Buggs (1610). After an interesting Queen's Pawn opening, Singson took control of the position and used all of his mastery to bring home the full point.
On board 2, Craig Faber (2150) had white against David King (1600), in the evening's last game to finish. White obtained good play out of a London System but, when time was called at 10:20pm, black seemed to have reasonable drawing chances as material was even and black had threats along the half open h file. The game was moved to Denny's where black was unable to hold the position and Faber scored the win.
On board 3, David Bassett (2141) was black against Tony Grauso (1575) and, after a Najdorf structure in the opening, was able to win the exchange and that proved enough to secure victory.
One of the evening's biggest upsets was on board 4, as Mark Flores (1572) beat Matthew Hayes (2105) and with the black pieces too. White appeared to have a winning position, with his heavy pieces about to infiltrate in the center against black's uncastled king, but Hayes suffered a total meltdown in time trouble by simply hanging a piece. Flores then displayed excellent endgame technique to force white's resignation.
There were other shock results as Kelly Zhang (2038) could only draw against Russell Balcom (1516), Bob Head (1404) beat Dane Hinrichsen (2000) and Frank Wosczyna (1225) drew against John Anderson (1850). With so many unusual upsets in the first round, it will make for some interesting pairings in round 2!
The Club Championship continues Monday, March 10.