IM Tim Taylor Takes on Arcadia Chess Players
More news articles
2/26/2014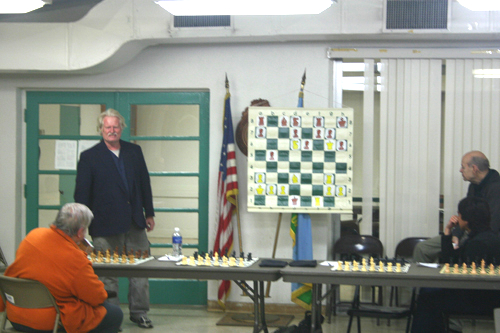 International Master Timothy Taylor took on 24 players in Arcadia Chess Club's first ever simul on Monday, February 24. The simul was a big success and everybody seemed to have a good time. Although we ran out of time to finish most of the games, that did not take away from the great experience of playing a super strong player and former US Open Champion.
IM Taylor gave a lecture of his first win against a Grandmaster before the simul started. This proved to be a lot of fun for the audience as we tried to guess several moves, especially at the critical point one move before his opponent's resignation. As it turned out, the answer was a subtle pawn move in front of the king. It hardly looked like fireworks but, as it forced either mate or the win of his queen, the Grandmaster had to resign!
After the lecture, the simul got underway with IM Taylor taking white on all boards. He had announced beforehand that he would play 1. e4 on all boards and, if anybody responded with. 1. ... e5, he would play the King's Gambit against them. It turned out that only one soul was brave enough to take up the challenge and that was Jeff Schwartz whose game was still ongoing when we ran out of time.
The chess club will certainly aim to have more simuls in the future. This was very much a learning experience for us as a club and we'll know for next time to start earlier, omit the lecture, or find some other way to have most all of the games finish on time. A big thank you to Tim for coming out to give the simul!
The game below was the one played by Matthew Hayes against IM Taylor. Like most of the other games, it was not finished but is still quite interesting. If anybody else who played in the simul would like to submit their game, please send it using the Contact page and we will post it on the website.
More photos are available by clicking on the thumbnails:





















White:
Black:

Date:
Event:
Location: