David is Goliath in Winter Open Win
More news articles
2/13/2014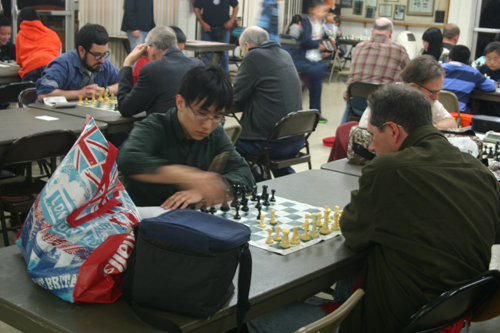 David Bassett won the Arcadia Winter Open with a score of 4.5/5. Bassett, who is just returning to chess after a long layoff, also improved his rating from 2100 to 2141. Congratulations, David!
Bassett was on board 1 of the Open section for the final round knowing that a win would guarantee outright first place and a draw would guarantee a share of first. His opponent was Anthony Ge (1897) who had a full point less but was one of the only players among the leaders who Bassett hadn't already played. Ge had the white pieces and played a delayed Alapin against black's Sicilian Defense. White played a cute knight move that forked black's queen and dark squared bishop where, if the knight was taken, another piece would then be fatally pinned to black's queen. However, in many ways this did black a favor as most of black's pawns were on dark squares so white was effectively getting rid of black's "bad" bishop for him. Black then obtained a horrible bind on the queenside, with his pawns severely restricting white's activity, before the coup de grace came via a temporary piece sacrifice that then led to a cute checkmate, which white's queen unable to block because she was pinned to the king.
A last minute change in pairings meant Matthew Hayes (2088) faced off against Tom Zapanta (1990) on board 2, instead of the expected Dave Matson (2008) who called in sick. Zapanta, who had white, looked to have the better position in the middle game but let black capture his d4 pawn, probably thinking he could simply re-capture it later. Unfortunately for white, that never happened and, within just a few moves, the position changed from slightly better for white to significantly better for black. White still had some chances because the rooks were on the board but, after one pair of rooks came off, Hayes was able to consolidate the extra pawn. White then jettisoned another to try to whip up some activity against black's king but it never quite worked out. Black traded everything down into an easily winning rook + 2 pawns vs rook, with white's king cut off. The result puts Hayes over 2100 for the first time, with a new rating of 2105, and the tournament was also a very good one for Zapanta who regained his expert status and has a new rating of 2005.
Board 3 saw a wild game between David Argall (2000) and Randy Hough (2000). Hough, who had black, played the Sicilian Najdorf and white castled queenside. Black gave up a pawn in order to open up lines on the queenside and, at one stage, this looked to be extremely promising as all of black's pieces were poised to join in the attack. After Hough sunk a rook in on g1, which pinned white's knight along the back rank, the position appeared desperate for white but Argall kept finding only moves and held the position. He was then able to trade off most of the pieces to reach an interesting endgame where black gave up a piece to try to queen first, only for this to backfire as Argall's endgame skills allowed him to promote his own pawn ahead of black's. This forced black's resignation.
Daniel Manahan (1941) and Kelly Zhang (2029) played an extraordinary game on board 4 that took almost two days! Manahan, who had white, looked to have a near winning position at one stage, as his pieces started to swarm around black's kingside and black's pieces (especially his queenside bishop and rook) were undeveloped. He sacrificed pawns to try to open up Zhang's position only for things to go awry and he ended up in a position where he was just down material (by this stage, three pawns). However, black's king was somewhat exposed and both players were starting to get low on time, so it was worth playing on. With black looking like he was close to promoting his dangerous passed h pawn, time had to be called as it was already 10:35pm. The two players resumed at 1:30pm the next day and Manahan was able to rescue a draw.
In the Under 1900 section, Asatour Dovlatyan (1836) was already assured a share of first place, even if he lost his last round game against Tim Deng (1699). As it turned out, a draw suited both players quite nicely because Dovlatyan placed outright first and Deng gained nearly a hundred rating points to reach a new rating of 1795. He has now overtaken his sister Queena's rating, who fell to 1770 after a disappointing tournament. Sibling rivalry?
Dovlatyan's fine tournament means his rated shot up from 1836 to 1908. Tim Deng had to be content with second place, shared with John Anderson (1833), as both players scored 4/5 just half a point behind Dovlatyan.
The Under 1500 section was a trumph for Russell Balcom, who took the draw he needed in the last round against Miguel Acosta (unr.) to win the section with 4.5/5. Balcom still has a provisional rating of 1516 (up from 1473) but he only needs to play one more game to earn an established rating. His last round opponent, Acosta, went into the tournament unrated but emerged with a provisional rating of 1663. He also didn't lose any games, having taken a bye in round 1.
Acosta was joined in a share of second place by Edward Chou (1401), Jasmine Xu (1098) and Rudolf Zubo Jr. (1263P15).
Amazingly, Tim Deng did not gain the largest number of rating points. His 94 point increase was extremely impressive but was eclipsed by Daniel Zhou (116 points), Ryan Lou (108 points), and Aaron Sun (138 points). However, Jasmine Xu gained a massive 225 points (!) to go from 1098 to 1323, an increase which also saw her shoot to second place on our all time list of tournament rating gains. Congratulations to all players but especially to Jasmine.
The chess club does not meet next week, February 17, because of the Presidents Day holiday. The club resumes the following Monday, February 24, for our simul exhibition with International Master Tim Taylor. All players are welcome and more details are
available here
. The following week, March 3, will see the start of the
Club Championship
, held in honor of former club director Mel Clark who passed away last year.