Zapanta Zaps Argall
More news articles
2/4/2014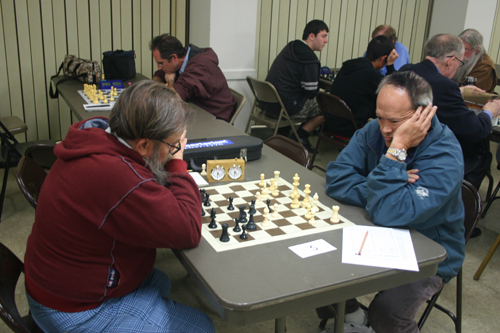 The penultimate round of the Winter Open took place last night and the Open section in particular is jammed at the top. Most of highest placed players have already played each other and most are due black in the last round! As a result, there are some strange pairings for next week.
This week also saw the successful roll out of our very first "Quextra" side event. Four players faced each other twice in a G/14 time control. A full report by Mike Carlson can be found below.
On board 1, Matthew Hayes (2088) was white against David Bassett (2100), who is returning to chess after a five year layoff. The opening was a Moscow Variation of the Sicilian, with black opting to play 3. ... Nd7 instead of the more common Bd7 (but both are main lines). Black obtained active queenside play whereas white had a space advantage and good central control. Hayes sacrified a piece for two pawns to open up black's king but Bassett found an accurate defensive move. With both players getting short on time, white was not able to calculate a win and took a draw by reptition. Subsequent analysis showed that white probably still had some chances but it would have meant finding several accurate moves in a very short amount of time, so the draw was a fair result. Bassett will go into the last round the sole leader on 3.5/4, with Hayes still in the hunt on 3/4.
Dave Matson (2008) took on Anthony Ge (1897) on second board, with Ge trying to play an Accelerated Dragon that eventually transposed into a more benign line where white castles kingside. The pieces then started to be swapped off until only the heavies (rooks and queens) were left on the board. After those then came off, the position looked extremely drawish. The only wrinkle in black's position were the weak dark squares around his king but that didn't look like enough for white to win with best play. Unfortunately, black went pawn hunting with his queen and started checking Matson's king, which only drove it up the board to h6 where suddenly mate was threatened and black had run out of checks. Ge resigned immediately because, although he could move his king to avoid the mate on g7, he also had a back rank problem. Even without that, his kingside would have been ransacked and resignation was justified. Matson also moves on to 3/4 and will play Hayes in the final round, with both players hoping for anything other than a win for Bassett on top board!
Board 3 was one of the evening's fastest games to finish. Tom Zapanta (1990) took on David Argall (2000) and Argall, who had black, played his trademark French Defense against white's 1. e4. Black was able to obtain pawns on c4 and d4 but they ended being more of a weakness than a strength. Zapanta played a typical Qg4 as well, picking up the g7 pawn, and suddenly black's king could find no shelter. In addition to simply being down a couple of pawns, black also had huge problems on the dark squares around his king, particularly g7 and potentially f8, and always had to worry about mating threats if white played Bh6 too. Argall's resignation was, therefore, understandable. As the game finished by 7pm, Zapanta promptly went off to play in the "Quextra" rapid event next door!
On board 4, Randy Hough (2000) was white against Daniel Manahan (1941). A Queen's Indian structure arose after white's 1. d4, with play being mostly on the queenside. White was able to lodge his bishop in on e5 but, as the pieces started to come off, it was clear that the game was headed towards a draw. The result means both players move up to 2/4, with Hough being on board 3 in the final round and Manahan being on board 4. Although first place will be out of reach for both, they will be looking for a strong finish next week.
In the Under 1900 section, Asatour Dovlatyan (1836) continued his demolition of the field. This time his unlucky victim was John Anderson (1833), whom Dovlatyan defeated with the black pieces. Dovlatyan is now sole leader of the Under 1900 section on a perfect 4/4. He will take on Tim Deng (1699), who is just half a point behind him, in the final round.
John Anderson can still tie for first place in the U1900 if he wins his last round game and Dovlatyan loses. Jeffrey Chou (1762) is in the same position after he beat Joey Perez (1803) in round 4.
Russell Balcom (1331) was not one of the pre-tournament favorites for the Under 1500 section but he has been destroying the competition. In round 4, Balcom beat Isabella Liu (1304) with the white pieces and he is now the only player on a perfect 4/4 score. Balcom should take on Miguel Acosta (unrated) in next week's final round. Winner takes all!
The final round of the Winter Open will take place Monday, February 10. The chess club will be closed on February 17 and we will return on February 24 with a simul by International Master Tim Taylor. We are accepting early registrations for the simul; please
click here for details
.
Report on the Inaugural Arcadia Quick Tournament: "The Night Magnus Carlsen chickened out."
Monday night, February 3rd, marked the night of the inaugural Arcadia Quick-Extra (Quextra) Event. Although this event was open to all players in the world, conspicuously absent were Magnus Carlsen, Vishy Anand, Garry Kasparov, and other internationally renowned chess luminaries. The reason why they did not show up is obvious: they were scared. In fact, they were beyond scared – they were absolutely terrified!
They were terrified because of the strong field of excellent players who did show up. Participating in this inaugural event were (1) Raoul Crisologo – a highly feared expert who has been previously rated at a master level; (2) Tom Zapanta – a keenly respected Arcadian chesser whose game is ultra-solid and who is consistently one of the top finishers in the club events; (3) Danny Machuca – an exceptionally gifted tactical magician who previously demolished a series of experts in winning one of the Arcadia tournaments outright with a 6-0 score; and (4) Mike Carlson, a perennial expert whose rating constantly hovers around 2100.
The event took place in the large, formerly unused space adjacent to the main tournament room, and consisted of a quad-based round-robin format in which everyone played each other twice in two 14-minute games, once as White and once as Black. Tying for first at 4.5-1.5 were Crisologo and Carlson. Because it was an inaugural event, there was no entry fee, and at the end of the final round all players were allowed to select a chess book or DVD from a large box of chess instructional materials.
The event can be considered a success in several respects. First, all of the participants had an enjoyable evening of chess, sharing in multiple exciting games. Second, the event logistics were good – very adequate lighting, use of large card tables to enable a private playing area for each game, and the ability to play in a spirited manner without disturbing players from the main event. And in addition, the atmosphere was cordial – good sportsmanship throughout, without even a single fistfight.
Please check the Arcadia Chess Club website for future announcements of "Quextra" Events. If all continues to go smoothly, such events will be offered on a fairly regular basis. When offered, these quextra tournaments give players a chance to have fun and compete for prizes, practice new openings and strategies, or eliminate rust – all without affecting one's regular rating.
And, oh – one last thing - if you see Magnus Carlsen please tell him that there is no reason for him to be so terrified – tell him that the Arcadia participants will take it easy on him and we will allow him to score at a win rate of at least 5-10% depending on whether we are in a charitable mood.
(Unbiased reporting by Mike Carlson)