Peace Like a Dovlatyan
More news articles
1/29/2014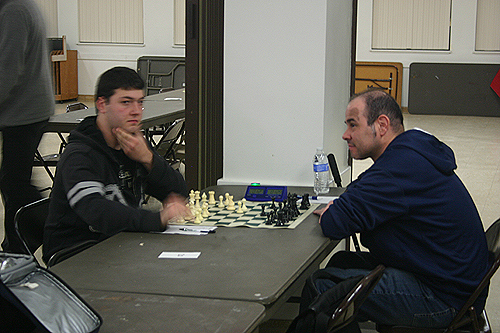 Round 3 of the Winter Open took place Monday night, this being the first week of our new schedule as the games all began and finished half an hour earlier. A number of players were either unaware or forgot about the new time, leading to some games having to be re-paired and people playing extra rated games. Hopefully, next week will be smoother! As a reminder, the club now opens at 6pm with all games starting at 6:30pm.
In the Open section, David Bassett (2100) continued his dominating form as he defeated Dave Matson (2008). Bassett had white and got a decent position out of the Ruy Lopez opening, although black did eventually work his way towards equalizing. Indeed, as the middlegame wore on, black suddenly had threats all over white's kingside with his two bishops looking particularly menacing. Bassett was forced to give up the exchange to ward off black's attack. Although white did have a pawn for the exchange, objectively it didn't look like enough with the queens still on the pawn. Matson forced off the queens but this may have been a mistake because it gave white good drawing chances, which then turned into winning chances after black went astray and started shedding pawns. In the end, black's rook just couldn't cope with white's two connected passed pawns on the queenside coupled with white's outside h pawn. There was no way to stop both threats, so black had to resign.
Board 2 was one of the victims of the schedule change, with Matthew Hayes (2088) originally slated to play Kelly Zhang (1980), but Zhang wasn't able to get to the club until about 7:30pm so the board had to be re-paired. Instead, Hayes took on Tim Thompson (1900), whose opponent Wendell Salveron also didn't make it. Thompson had white and the opening was a Hyper-Accelerated Dragon, which led into a middlegame with the queens off but both sides still having their rooks and bishops. The position looked balanced, with white's passed c pawn being potentially both an asset and a liability, until Thompson got frisky on the kingside and made an unwise pawn push that resulted in his king and rook being skewed by black's dark squared bishop. Despite being down the exchange, white did have some play (after all, he still had the bishop pair) and he tried various tricks but ultimately to no avail. White was forced to resign when Hayes was able to swap off the two bishops and win a pawn.
On board 3, Anthony Ge (1897) continued his superb tournament by beating expert Randy Hough (2000). The opening structure ended up being a bit like a Reti for white but, as this writer missed the opening moves, it was likely some sort of transposition or hybrid opening. Black ended up with a knight somewhat in limbo on e4, which white was able to attacked and compromise black's pawn structure. Ge then held out for the win, picking up another notable scalp as he gallops towards a 2000 rating.
Daniel Manahan (1941) took on David Argall (2000) on board 4. A Queen's Pawn Opening ensued, with black having pawns on c6, d6 and e7, which gave white a nice space advantage but initially this was nothing too special. As the game progressed, however, white was able to win a pawn and the resulting endgame looked completely lost for black. Not only did white have black bound up on the queenside, he could also make an outside passed pawn on the kingside. The wily Argall kept his wits about him and white drifted for a couple of moves until suddenly Argall claimed a draw by three fold repetition. This came out of the blue for white but, after reconstructing the three positions, the players agreed on the repetition and this gave Argall a draw that looked rather unlikely just a few moves earlier.
Asatour Dovlatyan (1836) has been destroying the competition in the under 1900 section and he continued the demolition by beating Joey Perez (1803) in a Queen's Indian with the white pieces. Dovlatyan was a pre-tournament favorite for the section and will take on John Anderson (1833) in round 4 in what will virtually be a decider for the tournament. Anderson, who has also been having a fine run, defeated Daniel Zhou (1533) to also move up to 3/3. Next week's grudge match should be interesting!
Still in the hunt in the under 1900 section is Bill Kiplinger (1738), who is on 2.5/3 and beat Edward Wu (1783) with the black pieces after winning the exchange and grinding Wu down in the endgame.
In the under 1500 section, three players are on perfect scores. Isabella Liu (1304), whose rating has yet to catch up with her ability, beat Ryan Yang (1443) and has 3/3. Similarly, Brian Phillips (1253) was another underdog before the tournament started but he beat Bob Head (1430), and Russell Balcom (1331) defeated Aaron Sun (969), to put both players up with Liu on 3/3.
Next week will be starting a side event that will run in conjunction with the main tournament. If there is enough interest, we will run at least one event per month and likely more than that. The events will usually be three round quickplay tournaments but there will be some flexibility depending on the number of players etc. The side events will be directed by Mike Carlson and will start promptly at 7:15pm. You need to please be there no later than 7pm to register for the side event. Players may not take a bye in the main tournament to play in the side event (you would need to withdraw from the main tournament to do so). The cost per event will be $5/player. More information will be forthcoming in the
News
section and there will be a downloadable flyer on the
Schedule
page of the website.
The Winter Open will continue Monday, February 3.