Think You Can Beat an IM? - Tim Taylor Simul, Feb 24
More news articles
1/28/2014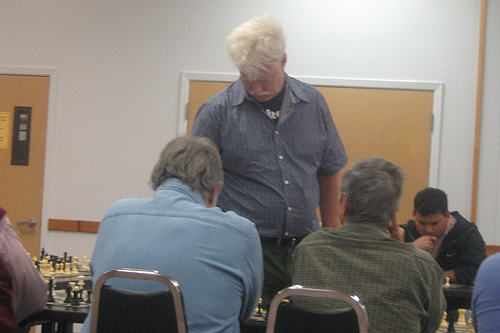 International Master Tim Taylor will be giving a simul at Arcadia Chess Club on February 24. IM Taylor is a former US Open Champion and well respected author of many well regarded books, particularly on the opening. This is a great chance to take on a highly rated international player!
IM Taylor is well known in the Los Angeles area for his fighting chess, as is demonstrated by his love of the King's Gambit and other attacking openings. He has even promised to play the King's Gambit against anybody who plays 1. ... e5 against him! Want to find some obscure line in the King's Gambit? Want to look it up on a computer beforehand? No problem. IM Taylor relishes the challenge! You can obviously play any opening you want too; this is not a King's Gambit themed simul!
The simul will be starting promptly at 6:30pm so please be there ahead of time to register. The entry fee is $15. IM Taylor will take white on all boards, as is traditional in most simuls. Anyone can play, regardless of their rating.
The simul is on a first come first serve basis on the night, however we will be accepting pre-registrations from Arcadia Chess Club members. If you pre-register, please be at the club no later than 6:25pm otherwise your spot may be given to somebody else who is waiting. There is no limit on the number of players but obviously the room can only accomodate so many people, so please pre-register to guarantee a spot or arrive early.
The club will be providing some sets but please bring your own as we may not have enough for everyone. No clocks are needed. You will be expected to make your move when IM Taylor comes to your board. If you are able to draw or win against IM Taylor, you may submit your game for inclusion on the website where will have a full write up of the simul. IM Taylor will also sign all scoresheets, whether you win, lose or draw!
On a more serious note, this simul is intended to help IM Taylor raise money for his wife, Liz, who is in urgent need of medical treatment. We encourage all Arcadia Chess Club members to participate to help IM Taylor in this worthy cause. You do NOT need to be a club member to play; even if you aren't a member, you are most welcome to turn up unannounced and we will do our best to get you a seat in the simul.
To pre-register for the tournament, please go to the
Contact page
or you can email/call Dave King or Matt Hayes. Their contact information is on the 2014 schedule.