Carlsen Digs Graves in Vegas Simul
More news articles
1/15/2014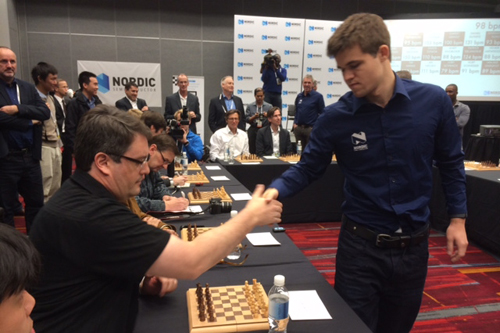 Arcadia Chess Club member Garret Graves had the fantastic opportunity to play World Champion Magnus Carlsen in a simul this past week. The event took place at the Consumer Electronic Show in Las Vegas and Carlsen took on 20 amateur players, taking white on all boards as is custom in most simuls.
Perhaps unsurprisingly, Carlsen made a clean sweep of the field by winning all his games. "All twenty of us got our butts kicked", joked graves, "but what a honor to play him!"
Graves won one of the coveted seats at the simul by answering some questions about Carlsen, the sponsor Nordic Semiconductor, and chess in general.
"All of us wore Mio heart rate monitors, which were displayed on a big screen", he said. "Everyone could see what our reactions were as the games moved through their phases." Graves also said his personal goal was to survive for at least 30 moves. As he said, "I did it, even though I had to let go of some very important pieces to do so!"
As Graves alluded to, an unfortunate blunder by black in the opening (a Nimzo-Indian) gave white all the incentive he needed. "The game is marred by a simple blunder early on that I should have seen," said Graves. "From there is was a matter of survival." At that point, after the aforementioned blunder on move 7, Carlsen was really "digging" Graves! However, black commendably played on in a difficult position and managed to hold out until move 31. Congratulations, Garret!
White:
Black:

Date:
Event:
Location: