Bassett Hounds Argall to Doggedly Take Lead in Winter Open
More news articles
1/14/2014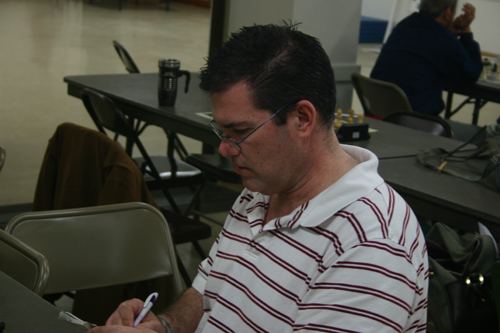 The Winter Open continued last night as another eight players joined, taking the total number of players in all three sections to a near-record 71. The Open was bolstered by the inclusion of Kelly Zhang (1980) and strong expert Jeremy Stein (2136), with the U1900 and U1500 sections each gaining several players as well. The club also welcomed a number of newcomers, including Emanuel and Miguel Acosta who are unrated but got off to an excellent start as both won their games.
Board 1 of the Open section saw David Bassett (2100) taking on David Argall (2000). Argall, who had white, looked to have some interesting chances against black's Najdorf with a time d5 pawn push appearing, at first glance, to be problematic for black. However, black calmly defended and soon developed his own threats against white's king which had castled queenside. Suddenly, both of black's bishops were hounding white's position and a nice pawn push exposed one of white's rooks to black's dark squared bishop. This forced Argall's resignation because moving the rook would allow Bxc2+, forking white's king and queen and ending the game. Bassett moves on to 2/2 and will play top board again in round 3.
On board 2, Matthew Hayes (2088) had white against Anthony Ge (1897). Ge is very much up and coming, having gained hundreds of rating points in the last year or so, and he was fresh off a superb draw against WFM Annie Wang in Pasadena last Friday. A slightly unusual line of the Catalan developed, with white sacrificing a pawn but obtaining a lot of piece activity. Black emerged out of the opening well and looked as if he might hold on to his extra pawn, however a series of exchanges allowed white to infiltrate on the c file and, before too long, Hayes' rooks were both on the 7th rank and the position looked perilous for black. Unfortunately for white, he got into time trouble and simplified the position when more care was needed and, in the end, a draw was the fair result.
Gordon Brooks (1900) took on Dave Matson (2008) on board 3 in what was the evening's last game to finish. Brooks played his trademark English Opening but found himself in difficulties and down a pawn. The resulting endgame was quite interesting with both players having a pair of rooks. Matson decided to allow the exchange of one pair of the heavy hitters and, even though white was able to round up the menacing passed d pawn, in the meantime black's rook was terrorizing the kingside pawns, soon winning one of them. The rook + 1 pawn vs rook + 2 pawns ending was probably drawn with best play as white's king was in front of the pawns and he had an active rook. Unfortunately, by this point Brooks was in dire time trouble (having about 2 mins vs Matson's 30 mins), leading to some inaccuracies, and eventually costing him another pawn and the game.
On board 4, Jeremy Stein (2136) faced off against Tim Thompson (1900). Stein opened with 1. d4 and a Semi-Slav position was reached, with black being a little cramped but having no real weaknesses. He also had an iron clad grip on d5 and white could not make any meaningful progress against black's solid setup. A draw was therefore a fair result, giving Thompson a very credible start to 2014 as he also drew expert Randy Hough (2000) in the first round.
In the U1900 section, Asatour Dovlatan (1836) continued his fine start as he made short work of Cory Chen (1739) with the black pieces. Dovlatan confirmed his status as one of the pre-tournament favorites for the U1900 section. Joining him on 2/2 were Tim Deng (1699) who beat his sister Queena (1826), Joey Perez (1803) who defeated Johan Akesson (1699), and Daniel Zhou (1533) who had an excellent win over Jeffrey Chou (1762).
The U1500 section has become something of a behemoth, with 33 players now competing! Top of the pile with 2/2 thus far are Ryan Yang (1443), Bob Head (1430), Russell Balcom (1331), Isabella Liu (1304), and Aaron Sun (969) who is having a superb tournament.
The Winter Open will continue Monday, January 27. The club does not meet Monday, January 20 due to Martin Luther King, Jr. Day.
Please note also an import change to the club's hours. From round 3 of the Winter Open, the club will be starting and finishing 30 minutes earlier. That means the club will open at 6:00pm, with the games being from 6:30pm to 10:30pm.