A New Year, a New Tournament
More news articles
1/7/2014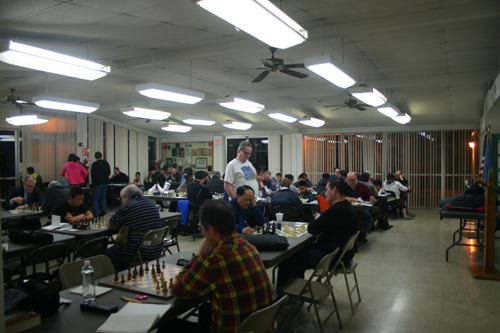 The Winter Open tournament started last night and along with it came a change in the tournament structure. This tournament has three sections - Open, under 1900 and under 1500 - which is something the club hasn't done for a number of years. We will still be running single section tournaments, however they will be alternated with the split section events. The Winter Open saw a large turnout in the first round, with 62 players entering. The turnout was even more impressive given that several strong players who were expected to take part elected to take a break this time around.
Anybody rated 1900 or over was eligible to enter the Open section. Players rated between 1850 and 1899 had the option to play in either the Under 1900 or the Open. Similarly, players rated between 1450 and 1499 could play in either the Under 1500 or the Under 1900. Several people did opt to play up.
On board 1, David Bassett (2100) took on Tom Zapanta (1990) with the white pieces. Bassett is returning to chess after a long layoff; indeed, this was his game in Arcadia since 1999. The Bassett - Zapanta game went into what was essentially a Sicilian Kalashnikov, with black's doubled f and g pawns meaning he couldn't castle but giving him some play down the g file as well as possible pawn pushes in the center. Despite whipping up what looked like a dangerous attack on white's queenside castled king, black couldn't break through and Bassett brought home the full point.
On board 2, Daniel Manahan (1941) was white against Matthew Hayes (2088). A wild game ensued out of a Catalan, with black winning a pawn out of the opening thanks to a neat tactical trick, followed by a blunder that gave white all sorts of attacking chances. Black looked to be teetering on the brink for some time, although the computer says things weren't so clear. Both players then ran short on time and, when white threatened black's queen, Manahan missed a zwischenzug that also threatened white's queen as well as a nasty discovered check. Unfortunately for white, he then had to go into an inferior ending where he was just down the exchange and had a lost game.
Dave Matson (2008) faced Ryan Chen (1919) on board 3. Chen has gained a ton of rating points recently but faced a stern test against the always solid Matson. Chen, who had black, played an Accelerated Dragon but got a version of it that is very unfavorable for black. White ended up with bishops on e3 and f3, raking down black's queenside, and black's isolated pawn on c6 - although sometimes not a particular weakness - in this case was a big liability. Matson's expert technique saw him hold off Chen to get off to a good start in the tournament.
The Open section also saw wins for David Argall (2000) against Simon Slutsky (1919) in a Grunfeld, and for Gordon Brooks (1918) who defeated Dane Hinrichsen (2000). Anthony Ge (1897) had the misfortune of being the odd player out but sportingly played an extra rated game against Ryan Lei (1041) rather than taking a bye.
The Under 1900 section had 22 players with top seed Asatour Dovlaytan (1836) comfortably beating Xavier Armagnac (1695) on top board. Armagnac wound up with his kind in no man's land and was swiftly punished.
There were also wins for John Anderson (1833), Joey Perez (1803), and Ryan Yeung (1800). Bill Kiplinger (1738), who hasn't played since early last year, shook off any rusy he might have had by beating Luis Mejia (1483). The final game of the night to finish was Queena Deng's (1826) battle against Dave King (1646). Deng, who was white, had an extra pawn in a rook endgame (3 pawns vs 2 pawns) but the position might have been drawn with best play. Indeed, Deng's h6?! looked like it probably let black off with a draw but black didn't find the best defense. As the clock ticked over to 11pm, the game had to be adjourned but, by that time, white had set up the well known Lucerna Position and King resigned without resumption.
The largest section by far was the Under 1500, with 27 players. Ryan Yang (1443) is top seed for the section and he had a good start by defeating newcomer Michael Xu (1194), with Michael's other family members (Michelle, Jasmine and James) also taking part. Indeed, Jasmine (857) scored a huge upset by beating Rudolf Zubo (1263)!
Board 2 in the Under 1500 was occupied by Anthony Ababat (1439) but he too was the victim of a big upset as he lost with the white pieces to Oscar Arias (1178). The shock results continued as Garret Graves (1046) held Brian Chen (1428) to a draw and, finally, Aaron Sun (969) beat Edward Chou (1409) and with the black pieces too.
The Winter Open will continue Monday, January 13.