Singson Beats Hayes to Take Lead in Richard Morris Open
More news articles
12/24/2013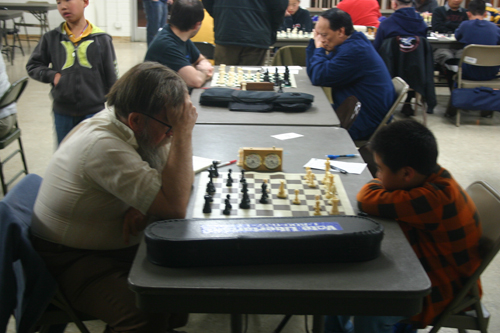 Melandro Singson (2184) has emerged as the front runner in the Richard Morris Open. Singson is the only player with a perfect 4/4 score and will be trying to take a clean sweep of the tournament next week.
In the penultimate round, Singson had white against Matthew Hayes (2078) on top board. Before the round, Tony Grauso had thought Hayes would be playing Craig Faber and starting to say how Faber would play the London System. After Hayes and Grauso concluded that Singson wouldn't possibly play the London System, he went ahead and played it anyway! An interesting game ensued, with white having more space but black was able to liquidate and swap off the minor pieces. Unfortunately, black drifted into time trouble and blundered after moving too quickly when a few more accurate moves would have probably secured the draw. Black resigned immediately after seeing white play the winning pawn capture (which would have resulted in the loss of an additional pawn too).
On board 2, the juggernaut that has been Ryan Chen (1794) this tournament finally came to a halt after running into Craig Faber (2200) and his favorite Dutch Defense. Chen had already beaten two experts en route to his match up with Faber but had no answer to black's accurate play. White was left with weak squares all over the board that caused him to drop a pawn and, eventually, the game. Faber will take on Simon Slutsky (1815) on second board next week.
Gregg Fritchle (2108) took on Tim Deng (1737) on board 3 and won a convincing victory. In the meantime, Simon Slutsky was continuing his fine run in this tournament by beating Gordon Brooks (1909), and with the black pieces too. White looked to have some advantage out of the opening (an English), with his pieces coordinating nicely. However, black had a meddlesome pawn on d4 and his pieces were soon extremely active. Slutsky's win means he will play Faber on board 2 in the final round, with a chance of gaining even more rating points after an already excellent tournament.
There were half a dozen big upset results in round 4, starting with Jeffrey Chou's (1756) win over David Argall (2000) on board 6. There was also an excellent result for Tony Grauso, who was able to draw against Queena Deng (1830). Ryan Yang (1361) then scored a huge win by upsetting John Anderson (1883), and with the black pieces to boot.
The shocks continued as Edward Chou (1333) beat out Luis Meija (1551), Brian Chen (1218) defeated Bob Head (1472), and finally Garret Graves (1004) beat Kaihao Wen (1188).
The final round of the Richard Morris Open takes place Monday, December 30.