Matson Holds Faber in Richard Morris Open
More news articles
12/17/2013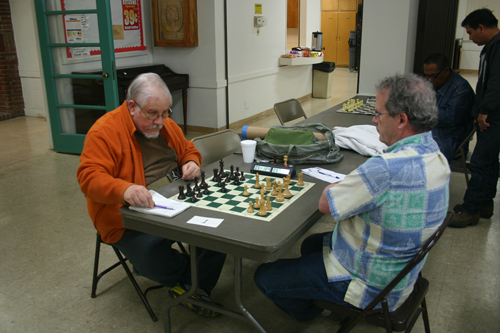 The Richard Morris Open continued last night and three players emerged on perfect 3/3 scores. There were also five fairly big upsets, including two on the top five boards!
On board 1, Craig Faber (2200) was held to a draw by Dave Matson (1995). Faber played the London System and was able to retain his dark squared bishop. However, black equalized quite early out of the opening and may have even been slightly better after the queens came off. A draw was a fair result and leaves both players still in touch with the leaders.
Melandro Singson (2184) had black against Ke Chen (1958) on board 2. Black played a Hedgehog style setup in the opening, looking to strike out with pawn breaks at the right moment. Singson knows this setup well and was able to win fairly quickly in one of the evening's quicker games. Singson will face off against Hayes (see below) on top board next week.
On board 3, Simon Slutsky (1815) was white vs Gregg Fritchle (2108) and played an excellent game that he probably should have won. After the queens came off following a Slav opening, white had rook and knight against Fritchle's rook and bishop. However, black's king was close to being in a mating net and white had the option to create a dangerous passed pawn. However, in time trouble he traded pawns instead and allowed Fritchle to use his expert endgame technique to hold the draw.
Matthew Hayes (2078) was white against Jonas Kulikauskas (1906) on board 4. Kulikauskas is just returning to tournament chess after more than a decade out but could not be taken lightly as he had previously been an expert in the 90s. Unfortunately, black decided to open the game before he was castled and a series of tactical shots was about to cost him a piece. Black resigned before seeing the loss of his bishop, which was fatally pinned to his king.
Ryan Chen (1794) has been having a superb tournament and is already up more than 50 rating points after round 3. Not content with beating David Argall (2000) in the last round, this time he dispatched with Tom Zapanta (2007) and with the black pieces too. White sacrificed a pawn in the opening to gain a big lead in development but a mistake later on meant he had to give up the exchange. Despite black's king being wide open, there was no way to force mate and white resigned when black's king was able to wriggle out of the threats.
There were three other big upsets, starting with Cory Chen's (1641) win over Dane Hinrichsen (2000). Bertram Buggs (1475) also beat John Anderson (1883) after infiltrating black's castled king on the queenside. Finally, Anthony Ababat (1456) had an excellent draw with Queena Deng (1830).
Round 4 of the Richard Morris Open takes place Monday, December 23.