Schroeder Stuns Hinrichsen
More news articles
12/10/2013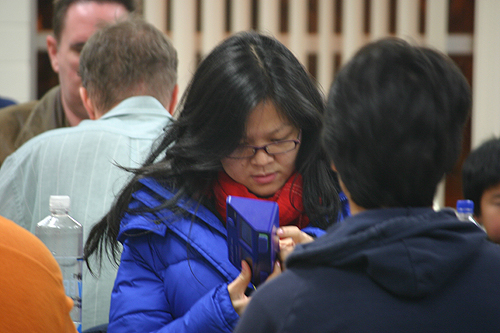 Round 2 of the Richard Morris Open took place last night with the number of players boosted to 57 after four new players signed up. Unusually, every single game in this round was decisive; there were no draws at all!
Before the round started there was a special presentation for Stephanie Shao, who is off to Dubai later this month after qualifying for the World Youth Championship. Stephanie was presented with a check (Dubai is not the cheapest place in the world!) and a card signed by many of the club's players to wish her good luck in this important event. Stephanie's progress can be followed at the official website for the World Youth Championship:
http://worldyouth2013.com/
.
There were no big surprises on the top few boards in round 2, with Craig Faber (2200) paired against John Anderson (1883) on top board. Faber played the Scandinavian against white's 1. e4 and soon had some uncomfortable pressure against key dark squares courtesy of his queen and knight, forcing white to make concessions with his pawn structure to try to keep all the pieces shut out. Black secured victory and Faber moves on to 2/2.
There was no rest for Stephanie Shao (1905) who, immediately after receiving her card, had to take on Melandro Singson (2184) on board 2. Singson played what looked to be some sort of London System structure and obtained pressure against black's kingside. Shao was unable to defend everything and her resignation also puts Singson up with the leaders.
On board 3, Gregg Fritchle (2108) had white against Daniel Manahan (1861), who fell into an unfortunate trap in the opening. Although white castled queenside and the light squares looked a little suspect, Fritchle had it all under control and black did not have sufficient compensation for the exchange (there was also the small matter of being down 3 pawns!). Manahan resigned after one of white's rooks invaded the 8th rank and completely tied black up.
On board 4, Queena Deng (1830) took on Matthew Hayes (2078). White made a couple of inaccuracies early on to lose a pawn only for black to return the favor by playing a tempting exchange sacrifice that was perhaps not quite sound. An interesting endgame ensued with white having two passed pawns but an exposed king. The game was probably a draw with best play but Hayes found some tricks and took advantage of white's time trouble to force mate or the win of white's queen in what was the last game to finish as the clock nearer 11pm.
There were three big upsets on boards 5, 7 and 8. Simon Slutsky (1815), a newcomer to Arcadia Chess Club, beat Randy Hough (2021) with the black pieces. Ryan Chen (1794) then took out David Argall (2000) on board 6. Finally, Jeff Schroeder (1763) scored the biggest upset of all by downing Dane Hinrichsen (2000) with a clever trick that either promoted a pawn or won a piece in the endgame.
Round 3 of the Richard Morris Open takes place Monday, December 16.