Strong Turnout for Start of Richard Morris Open
More news articles
12/4/2013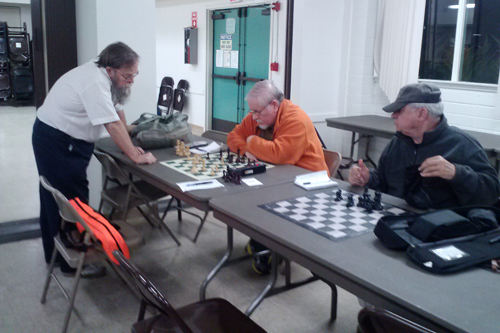 The Richard Morris Open got underway Monday, December 2 with a good turnout of 53 players. The list of players includes seven experts and NM Craig Faber (2200), the winner of last month's Istvanyi Open. This will be a five round tournament and our final one of the year.
Faber squared off against Jeff Schwartz (1668) on board 1, employing his trademark London System. Schwartz, playing black, traded off white's dark squared bishop before he had a chance to get h3 in and give the bishop a retreat square. However, anyone who has played the London System knows that this is routine stuff for white and things started to go awry for Schwartz as white penetrated on the queenside. With the game slipping away, black had to give up his queen and ended up with two rooks vs queen and bishop. The position was already lost but one final error came as black moved his rook to d7 where it could be skewed by white's bishop. In fact, it cost him a whole rook after a follow up check by the queen and black resigned a couple of moves later.
On board 2, Melandro Singson (2184) had black against Dave King (1643). A Slav position arose out of white's 1. d4 opening, with black gradually getting play in the center and on the queenside owing to his pawns on a6, b5 and c6. As is common in such positions, black's bishop on b7 looked "bad" but will actually become a strong piece once black gets c5 in. So it proved, as a favorable exchange of queenside pawns saddled white with a slightly weak b pawn and Singson used his expert technique to exploit the increasing holes in white's position.
On board 3, Matthew Hayes (2078) was white vs Xavier Armagnac (1613) in one of the evening's first games to finish. Black played the Petroff but a very dubious line and was essentially lost out of the opening. No, it wasn't the well known Nc6+ discovered check variation but an attempted zwischenzug (in-between move) by black in response to a pawn capture by white backfired when white had his own zwischenzug that attacked black's queen and led to the loss of a piece. Black resigned when white was about to win a second piece.
On the other top boards, Randy Hough (2021) beat Bertram Buggs (1475) on board 4, Tom Zapanta (2007) defeated Bob Head (1472) after a crushing assault along the c file, and David Argall (2000) beat out Richard Luchetta (1445) with the black pieces.
Although the top seeds all emerged unscathed, there were two big upset results. Frank Wosczyna (1244) picked up one of his best results at the club for some time by drawing with Tim Thompson (1900), and Brian Chen (1218) beat Anthony Ge (1895) with the black pieces. Congratulations to both players.
Round 2 of the Richard Morris Open takes place Monday, December 9.