Craig Grants no Fabers in Istvanyi Open Onslaught
More news articles
11/27/2013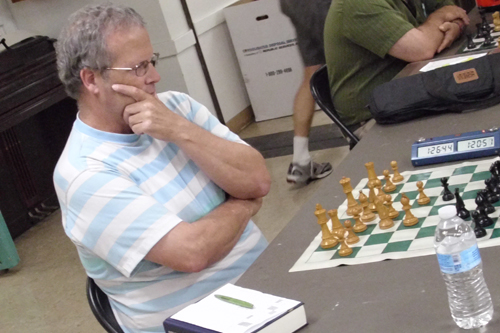 The Istvanyi Open concluded Monday, November 25 and Craig Faber swept the field. He scored a perfect 5/5 and, if that wasn't enough, he regained his Master status as his rating increased from 2165 to 2200. Faber defeated two experts and one former expert along the way. Congratulations, Craig!
Faber had black against Michael Cooper (2104) on top board and the game looked to be headed towards a draw. Certainly, Cooper had reasons to be optimistic because he had bishop vs knight and there were pawns on both sides of the board. However, he missed a canny pawn push that compromised white's pawn structure and tied white down to defending an isolated e-pawn. It may have still been possible to hold the game with perfect play but Faber kept pressing. He finally sacrificed his knight and, if the knight was captured (and indeed, even if the knight wasn't captured), black would have two connected passed pawns on the queenside with white's bishop unable to stop them.
On board 2, both Tom Zapanta (2009) and Matthew Hayes (2042) were hoping for anything other than a Faber victory! Both players knew that a win for them, coupled with either a draw or a win for Cooper on board 1, would secure a tie for first place. Unfortunately, Zapanta - who had white - fell into an opening trap in the Hyper Accelerated Dragon and lost a piece. He did get two pawns for it but it wasn't objectively enough. Zapanta resigned when facing mate next move as black's queen, rook and bishop invaded. The result moves Hayes up to a new rating high of 2078 but, owing to the result on board 1, Hayes had to settle for sole second place in the tournament.
Board 3 saw Jesse Victoria (2058) take on Ke Chen (1959) with the white pieces. A complicated middlegame ensued, with black's bishops at one stage looking quite menacing being pointed towards white's queenside. However, Chen missed a trick that cost her a pawn and, with both players in time trouble, had a meltdown that first cost her a second pawn and then a third pawn. Victoria then played a neat temporary exchange sacrifice that black should have accepted (albeit it would have meant giving back the exchange right away after white skewered her king and rook with a bishop check). However, the time pressure proved decisive as black tried for a trick that just didn't work and ended up down a piece. She resigned when white's g pawn started marching down the board and couldn't be stopped from queening.
On board 4, David Argall (2000) had white against Gordon Brooks (1900) but could only draw. Kelly Zhang (1959) defeated Danny Machuca (1896) on board 5 and John Anderson (1807) scored a pretty big upset by beating Gregg Fritchle (2120) and with the black pieces to boot.
A couple of people turned up expecting this to be the first round of the Richard Morris Open. We had to unfortunately change the schedule because we were informed the building would be closed for two Mondays we had expected it to be open. This meant changing to two five round tournaments at the end of the year (the Istvanyi Open and Richard Morris Open), which we felt was preferable to having a four round and then a six round tournament. Ron Morris (1798) was one such player who showed up not realizing this was the last round of the Istvanyi Open (the other was Richard Polhamus) but he still got a game as a house player. He may have wished he hadn't, though, as Jeffrey Schwartz (1662) beat him with the black pieces in a complicated game where Morris sacrificed a piece to open up black's kingside but then walked his king and queen into a knight fork.
Bob Head (1400) picked up another upset win, defeating Cory Chen (1641) who played the game all the way out to mate despite being down two queens. Head did not make any mistakes and mated Chen in short order and also picked up a huge 72 rating points in the process, taking his new rating up to 1472.
There were several other big rating increases, notably Xavier Armagnac (49 points), Ryan Shirtz (53 points), Abinanda Mukundan (58 points), and Ryan Yang (68 points). However, the biggest gains went to the Manahan siblings, who gained a huge 203 points between them! Sophia gained 100 points and her brother Raphael took his rating from 1088 to 1191, a gain of 103 points. Raphael is now one of the top rated six-year-olds in the country and no doubt both of them will be gunning for the "A" players and experts sooner rather than later. Congratulations to both Sophia and Raphael!
A full crosstable of the Istvanyi Open can be found here:
http://www.arcadiachessclub.com/crosstable.asp?201311254152
Our next tournament is the Richard Morris Open, which starts December 2 and will be a five round tournament.
We also considering making some changes to the tournament structure next year. We will still have a good number of single section tournaments but are thinking of introducing some two or three section tournaments, limited by rating. We will have more information on this over the coming weeks.